NY Exterminators - Scientific Exterminating Services
Our NY exterminators from Scientific Exterminating Services has been providing pest control and termite services for over 56 years. That is four generations of experience using the most advanced equipment and materials available.

Our environmentally conscious methods are the most effective pest control techniques available in the industry. When it comes to pest control we have it down to a Science. Our exterminators in NY have been successful because we have satisfied customers.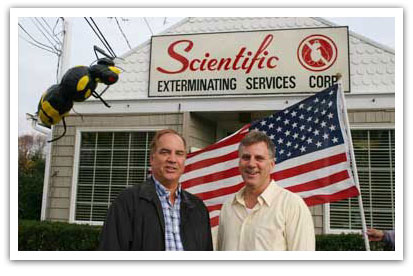 For over 49 years the primary source of advertising has been word of mouth. With this in mind the Scientific family business has focused its
efforts in providing quality pest control services not in expensive advertising. You can count on these savings being passed on to you.

The commitment to our customers and our future clients is to provide the highest standards in professional services and to maintain a relationship of honesty, integrity and confidence. Our commitment has earned us the reputation of excellence in customer satisfaction.

Scientific exterminates rodents, bees, termites, ants, and many other nuisance pests. You can read more about us and the pest control services we offer.Please look at our pest control FAQ for further information on the pests we exterminate.

Call Scientific for help with pest control in New York at 631-265-5252 or use our email form and contact us today.
534 North Country Road, St. James, NY 11780 --- CALL OR TEXT US AT 631-265-5252